Wearable Technology in Healthcare: Examples and Use Cases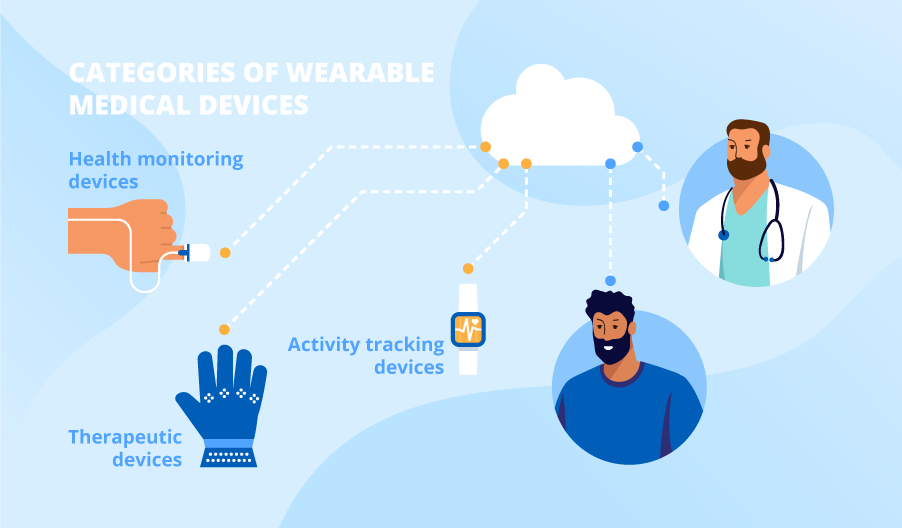 Editor's note: Alena provides examples and use cases of innovative wearable healthcare devices. If you are interested in establishing technology-enabled care, check ScienceSoft's offering for medical IoT.
The global wearable healthcare devices market is projected to reach $46.6 billion by 2025, compared to $18.4 billion in 2020. Gartner estimates that worldwide end-user spending on wearables will grow 18.1% in 2021 over the last year. And it's not surprising, given that wearable technology holds a significant position in the expanding world of the Internet of Things (IoT).
In healthcare, the Wearable IoT (WIoT) is a network of patient-worn smart devices (e.g., electronic skin patches, ECG monitors, etc.), with sensors, actuators and software connected to the cloud that enable collection, analysis and transmitting of personal health data in real time.
Since the beginning of the COVID-19 pandemic, there has been a surge in consumer interest in wearables: with 54% of US adults using digital wearables to track at least one health parameter (e.g., heart rate, temperature) in 2020, compared to 42% in 2019. The pandemic-driven wearables boom may not be easy to maintain once living conditions return to some degree of pre-pandemic normality. Still, the number of health and fitness apps users' is expected to grow by 2022.
Examples of wearable devices in healthcare
I'd like to focus on three major categories of wearable medical devices: health monitoring devices, therapeutic devices, and activity tracking devices.
A trendy example of a smart device for health monitoring is a smart skin patch. They are thin adhesive patches containing electronic components (including sensors and actuators with appropriate processing, energy storage and communication) that collect a patient's vitals (e.g., heart rate, body temperature, etc.) and transfer them to apps for physicians and for patients.
Another example is a mobile ECG monitor. This device records a patient's electrocardiogram via a wireless electrode that can be attached, for instance, to a patient's chest or finger. The ECG data is sent to the cloud for analysis and then – to a doctor and a patient-facing app.
Unlike health monitoring devices, therapeutic devices provide real-time monitoring of patient metrics related directly to disease therapy, recovery from an illness and and facilitate therapy delivery. These devices are usually categorized into pain management devices, rehabilitation devices, insulin pumps, and respiratory therapy devices.
Smart gloves, for example, help those who have lost control of their hands (e.g., after a stroke) to regain movement through repeated hand and arm movements. Gloves have built-in sensors that read and quantify patients' movements during a rehabilitation session and transfer this data to a cloud for analysis and then add interpreted data to a therapist's app. This data allows a physical therapist to note the small improvements in the range of motion of a patient's fingers and adjust the therapy.
This group includes fitness trackers and smartwatches. Although not intended for specialized medical use initially, modern activity tracking devices offer disease-specific functions and capabilities to monitor vital signs in real time.
For example, modern smartwatches are quite efficient for aiding in cardiovascular disease management. A cuff in a watch band inflates to capture systolic and diastolic pressure, using the method of medical-grade blood pressure monitors. The data collected by a smartwatch is synced with an app and sent to a cloud platform for further analysis.
Fitness trackers, in their turn, can monitor a user's movement, rotation, as well as such health indicators as a heart rate, blood pressure and oxygen level. Based on the captured and analyzed data, the app-connected tracker can make recommendations on the eating habits, sleep schedule, and general activity performed throughout the day.
However, data from smartwatches and fitness trackers is not considered by doctors to be suitable for the diagnosis and treatment of diseases.
Wearables are contributing to disease prevention, detection and treatment. Also, they can make routine health screening more accessible and convenient for patients. As for the drawbacks, wearable health technology users may be concerned about the privacy of personal health data. The solution to this problem can be the choice in favor of HIPAA-compliant software development implementing security measures like data encryption and data access control measures.
If you need help with any aspect of wearables-related app development, including strong data protection, you are welcome to contact ScienceSoft's healthcare IT team for an initial consultation.
Launch your Project
Medical Device Software Development by ScienceSoft
Looking to develop medical device software? Our certified BAs, developers and QA specialists work together to deliver highly secure and reliable healthcare solutions.