What is Social Listening, Why it Matters, and 10 Tools to Make it Easier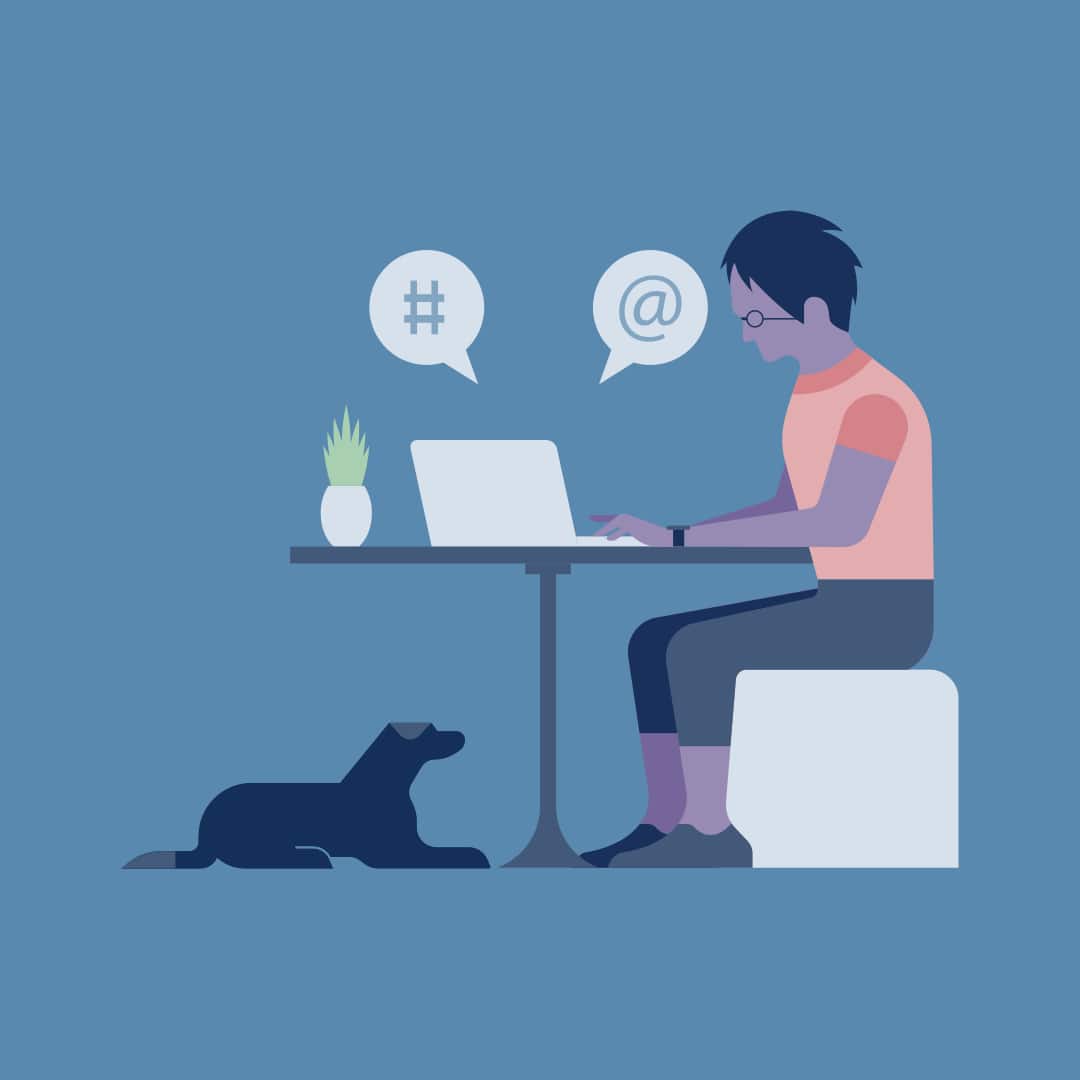 If you don't have a social listening strategy in place, you're missing out on some of the most valuable data available to help build your business.
In fact, nearly two-thirds of marketers agree that social listening has increased in value in the last year.
Social media listening tools allow you to build a solid understanding of exactly how customers and potential customers think about you by analyzing what they say on social channels. You can also learn what they think about the competition. This is incredible market research readily available in real-time—as long as you know how to access it.
Social listening is tracking social media platforms for mentions and conversations related to your brand, then analyzing them for insights to discover opportunities to act.
It's a two-step process:
Step 1: Monitor social media channels for mentions of your brand, competitors, products, and keywords related to your business.
Step 2: Analyze the information for ways to put what you learn into action. That can be something as small as responding to a happy customer or something as big as shifting your entire brand positioning.
What's the difference between social listening and social monitoring?
At first glance, social listening might seem like social media monitoring, but the two concepts actually differ in important ways.
Social media monitoring is all about collecting data. It allows you to look back at what has already happened using metrics such as:
Brand mentions
Relevant hashtags
Competitor mentions
Industry trends
Brand monitoring on social media is great for things like monitoring ROI or A/B testing campaigns. It's also great information to help prove the value of social marketing when it comes time to set the yearly budget.
But numbers alone don't tell the whole story. It's great if a post gets lots of positive engagement. But it's not so great if a post racks up negative comments and angry-face reactions.
Social listening looks beyond the numbers to consider the mood behind the data. This "online mood" is also called social media sentiment.
Social media sentiment analysis is a key part of social media listening because it helps you understand how people feel about you and your competitors. Instead of just counting the number of times your brand gets mentioned, you look at what you can learn from social conversations to drive real business results.
Being aware of shifts in social sentiment also allows you to respond right away to unexpected changes.
Social monitoring is essentially a record of what has already happened. The defining feature of social listening is that it looks forward and backward. It's about analyzing the information you collect and using it to guide your strategy and day-to-day actions.
If you're not using social media listening, you're creating your business strategy with blinders on. Real people actively talk about your brand and your industry online. It's in your best interest to know what they have to say.
Simply put, if you care about your customers, you care about the insights you can get from social listening. Here are some of the ways social listening can benefit your business.
Understand and engage with your audience
Social media listening helps you better understand what your audience wants from your brand.
For example, an existing customer might tweet about how much they love your product. Or you might spot a conversation where people are looking for solutions your product or service could provide.
Zappos is known for its legendary customer service and its consistent social engagement with fans. Tweet a photo of your cat in a Zappos box, and you just might get a retweet:
we live to serve ❣️ https://t.co/Z8e6PgrBWs

— Zappos.com (@Zappos) November 18, 2021
But they also keep an eye out for conversations where people recommend Zappos as an option for shoe shopping. They pop in with a positive comment or additional recommendation, but never a hard sell.
Oh, that's definitely a great option! 😍

— Zappos.com (@Zappos) November 8, 2021
Industry and competitor intelligence
Social listening is more than understanding what people say about you. You also want to know what they say about your competitors and your industry in general. This gives you important insights into where you fit in the marketplace.
Social listening shows you what your competitors are up to in real-time. Are they launching new products? Developing new marketing campaigns?
For example, when Wendy's made a play on the Facebook/Meta brand update, Arby's was quick to jump in:
Chill @Wendys 🥶 – We Have The Meats 😉 https://t.co/64UnbhL3Zw

— Arby's (@Arbys) October 28, 2021
Maybe the conversations you find will reveal a gap in the marketplace you could step up to fill.
Discovering these new opportunities and threats as they happen allows you to plan and respond in real-time.
Product intelligence
Monitoring conversations around the industry also uncovers a ton of insight about what's working—and what's not working—for existing and potential customers.
This information is a gold mine for your customer service, product development, and marketing teams.
For example, Nordstrom's social team gained some important information here to pass on to the UX team:
We're so sorry to hear this. Please know that your feedback was shared with our teams as we're always looking for ways to help make improvements where needed. If you have questions or need help with anything, feel free to let us know via DM. Thanks. -Mariah

— Nordstrom (@Nordstrom) November 17, 2021
Can you tweak an existing product or add a feature to resolve problems people are talking about? Maybe what you learn will spur a new product idea.
You'll also learn about frustrations with your current products—and your competitors' products. Can you modify things to help address the concerns? If you do, be sure to tell people about it with a targeted marketing campaign.
Avoid crises before they happen
Social listening allows you to track sentiment in real-time, so you can know right away if there's a significant change in how much people are talking about you or the mood behind what they say.
It's like an early warning system that alerts you to positive and negative changes in how your brand is perceived online.
If you're getting more engagement than usual, look for the reasons behind it. Your audience shares loads of helpful information about what they like and what they don't. Those lessons can help guide your strategy across channels.
Social listening also helps you address PR disasters before they get out of hand. If sentiment is down, review the social feedback to try to identify the source of the change. While you're at it, look for lessons that could prevent a similar misstep in the future.
If sentiment is way down, make it a priority to find the cause and make changes right away by pulling a problem post or apologizing for an insensitive Tweet.
As Hootsuite's social engagement specialist Nick Martin says in the video at the top of this post, careful social listening allows you to "make things right before they go wrong."
Fill your funnel
People generally love it when you offer to help solve their problems. But strangers on the Internet most certainly do NOT love it when brands jump into their social conversations with a hard sell.
Social listening helps you uncover questions and conversations about your industry on social platforms. These are all potential opportunities to reach out and introduce your brand or share your expertise. But they should not be seen as openings to jump in and try to sell right off the bat.
Instead, view the conversation you join through social listening as an opportunity to develop relationships with potential customers in your industry who you can nurture into relationships for social selling.
You can do it. We believe in you. https://t.co/jxddL1LvVh

— Hootsuite (@hootsuite) November 3, 2021
Reach out, make a connection, and share helpful information. This will help establish your brand as the best resource when it comes time to make a purchase decision.
Identify opportunities for collaboration
Monitoring social conversations about your industry will give you a sense of who the important creators and thought leaders are in your space. These are important people to connect with.
They can have a huge influence on how people feel about you.
Remember: this is a two-way street. Supporting others in your industry makes it more likely they will support you in return. Rather than trying to barge into an existing community, connect through collaborations with people who already hold a meaningful place in the conversations you want to join.
Social listening will help you find ways to become a part of relevant online communities organically and in a way that's perceived as helpful rather than salesy.
As stated in Hootsuite's Social Media Trends 2022 Report:
"If people within the community see you as an active partner in supporting the creators they admire, they'll be more likely to trust that you have their best interests at heart too."
You will also find people who already love your brand and are saying great things about you on social media. These are natural brand advocates. Reach out to them and look for opportunities to collaborate in meaningful ways with these existing cheerleaders for your brand.
Social listening software will make it much easier for you to implement an effective social listening strategy. Here are our picks for 10 of the best social listening tools.
You may not be surprised to learn that we think Hootsuite is one of the best free social listening tools out there. You can use Hootsuite to set up social media streams that monitor conversations, keywords, mentions, and hashtags.
You can monitor and respond to conversations or mentions immediately from one dashboard—instead of logging in and out of various social platforms.
Hootsuite also allows you to keep an ear to the ground in your industry by monitoring the competition and building relationships with social media creators (a.k.a. influencers) and potential brand advocates.
Hootsuite Insights goes even further and gives you data from 16 billion new social posts every month, added in real-time. Boolean search logic can help you find meaningful trends and patterns you might miss by monitoring keywords and hashtags alone. You can then filter your searches by date, demographics, and location to find the conversations most relevant to you.
Hootsuite Insights also makes it easy to track brand sentiment with intuitive word clouds and meters that gauge your sentiment and brand awareness against the competition.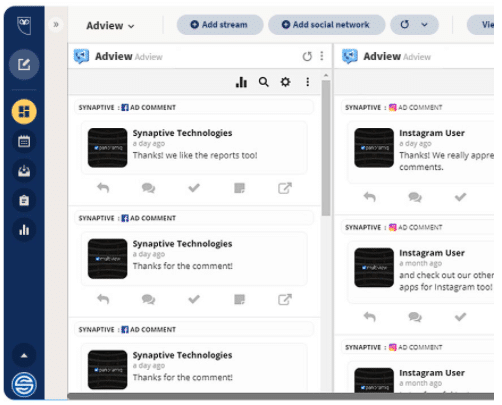 Unlike most social listening platforms, Adview is used specifically for social listening on Facebook and Instagram ads. You can use it to monitor up to three Facebook Ad Accounts across unlimited pages.
When you add Adview to your Hootsuite dashboard, you can reply to comments on all your Facebook and Instagram ads in one place.
Talkwalker offers robust social listening features that analyze blogs, forums, videos, news sites, review sites, and social networks all in one dashboard. They draw data from more than 150 million sources.
You'll be able to monitor conversations around your brand while analyzing the engagement, reach, comments, and sentiment behind them.
Synthesio tracks conversations on highly specific topics in carefully segmented audiences. It allows you to segment your social listening data by language, location, demographics, sentiment, gender, influence, and more. The reports also come with a handy social reputation score.
Track mentions, keywords, and sentiment across multiple languages. Also, you can easily find influencers across social networks and other online sources.
The Mentionlytics social media monitoring tool combs through social platforms, along with blogs and news sites, for mentions. Since it's integrated with Hootsuite, you'll be able to easily view them on your dashboard.
NetBase uses Natural Language Processing (NLP) to help you focus your social listening on key conversations. It collects data from hundreds of millions of social posts daily plus more than 100 billion historical posts across the social web.
Audiense allows you to identify any audience—no matter the size.
The app creates reports that tell you what they're discussing, what they like, and even how they think and behave.
Its audience manager also helps you find and understand very specific audiences to make sure you have the perfect match for your brand.
Digimind sources data from more than 850 million sources in 200+ languages. Using artificial intelligence, it analyzes mentions to monitor trends and sentiment, presenting them in useful data visualizations.
ForSight by Crimson Hexagon allows you to filter your social listening streams by sentiment, opinion category, gender, geography, and influence score. With access to a data library of more than 400 billion social media posts, it allows you to engage with a large audience in real-time.
1. Listen for the right words and topics
Good social listening is all about choosing the most relevant keywords for your brand.
The keywords and topics you monitor will likely evolve over time. Using social listening tools, you will learn what kinds of words people tend to use when they talk about your business and your industry. You'll also start to get a sense of what kinds of insights are most useful for you.
That said, here's a list of important keywords and topics to monitor right from the start:
Your brand name and handles
Your product name(s)
Your competitors' brand names, product names, and handles
Industry buzzwords
Your slogan and those of your competitors
Names of key people in your company and your competitors' companies (your CEO, spokesperson, etc.)
Campaign names or keywords
Your branded hashtags and those of your competitors
Unbranded hashtags related to your industry
You should also monitor common misspellings and abbreviations for all of the above.
For example, brands like Starbucks use social listening of their brand names to discover and respond to social posts even when they're not tagged:
Period. 💯

— Starbucks Coffee (@Starbucks) November 18, 2021
And KFC UK is clearly monitoring for a broad swath of keywords related to their business, jumping in here at the mere mention of gravy:
Same tbh https://t.co/dvWab7OQz8

— KFC UK (@KFC_UKI) November 9, 2021
2. Listen in the right places
Part of finding out what your audience has to say about you is learning where they have their conversations. That means casting a wide net for your social listening program.
Conversations around your brand or industry on LinkedIn are likely to be much different than they are on Twitter, Instagram or Facebook. And you might find that people talk about you all the time on Twitter, but not at all on Facebook.
You need to know where people are talking about you and your industry and how those conversations vary across networks. This will guide your strategy for joining the conversation through both organic engagement and paid advertising.
3. Narrow your search
Once you've nailed down what terms and networks are important for you to monitor, use more advanced search techniques to filter your results.
For example, depending on your market, you might want to limit your social listening efforts by geography. If you run a local business in Iowa, you might not be concerned about the conversation in Greece.
You can also use Boolean search logic to create more targeted search streams for social listening.
4. Learn from the competition
You never want to copy someone else's strategy. But you can always learn something by listening closely to your competitors and what other people say about them online.
Social listening can give you a sense of what they're doing right and what people love about them. But most importantly, you can see where they misstep and get it wrong, or when they're facing criticism in the press or on social media.
For example, Coca-Cola went through a rough patch after Cristiano Ronaldo removed two bottles of Coke from view during a Euro 2020 press conference. Mike's Hard Lemonade jumped at the chance to parody the moment.
It's a lot less painful to learn a hard lesson by watching your competitors make mistakes than by making them yourself.
5. Share what you learn
Social listening provides a wide range of information that is useful for your whole company.
Maybe it's a customer's post that needs a response right away. Maybe it's a great idea for a blog post. Or maybe it's an idea for a new product or a new feature for an existing product.
The customer service, content marketing, and product development teams could all benefit from what you learn when you're listening on social media. Make sure to communicate those learnings. And seek input from those teams, too. They might have specific questions you could answer by tweaking your social listening setup, too.
6. Keep alert for changes
As you start to collect social information, you'll develop a sense of the regular conversation and sentiment around your brand.
Once you know how much people talk about you on a regular basis, and what the overall sentiment level generally is, you'll be able to spot change.
Major changes in engagement or sentiment can mean that the overall perception of your brand has changed. You need to understand why so you can adapt your strategy appropriately. That may mean riding a wave of positivity or correcting a misstep to get back on course.
Remember: If you don't take action, you're only engaged in social media monitoring, not social listening.
Social listening is not just about tracking metrics. It's about gaining insights into what your customers and potential customers want from you, and how you can better address those needs.
Make sure to analyze patterns and trends over time, rather than just individual comments. These overall insights can have the most powerful effects in guiding your future strategy.
Hootsuite makes it easy to monitor keywords and conversations on social media, so you can focus on taking action on the insights available. Try it free today.
Easily manage all your social media in one place and save time with Hootsuite.